Drone Construction Services
Ahead Air drones provide actionable aerial data at every stage of construction
Drones are a game changer in construction. From site prep to sign off, drones play an increasingly crucial role at every phase. Carrying high resolution cameras and other sensors, drones provide valuable data to construction engineers, architects, contractors, and stakeholders. Whether you need to monitor progress, measure stockpiles, calculate elevations, or inspect for compliance, drones are a safe, economical, and efficient solution.
With Ahead Air, you don't have to worry about equipment, insurance, training, or licensing. Our experienced drone pilots are licensed and FAA Safety Team Certified, insured, and construction savvy. We take care of the hardware, software, flight planning, and insurance. You get the data you need with none of the hassle of financing and managing a drone operation.
Ahead Air provides construction companies with the data they need to win contracts, and keep projects on time and on budget. 
Ways we help:
Client communication. Drone photography helps clients see how the project is progressing while under construction.
Asset and material management. Drones can help you monitor locations and quantities of assets and materials at a glance, to ensure it will be there when you need it.
Invoicing accuracy. Drone photography enables you to monitor work completion more effectively, and bill accordingly.
Improve quality. Drone photography vastly increases your ability to complete quality inspections in hard to reach and/or hazardous areas in safe and efficient manner.
Minimize rework. Regular inspections enable you to catch more mistakes before they become a bigger problem, thus reducing the amount of rework needed.
Improve safety. We can provide inspections in dangerous areas without putting anyone at risk. Drone photos also allow you to identify and mitigate potential hazards before they cause harm.
Reduce legal exposure. Regular drone inspections increase site documentation, helping to reduce the likelihood of litigation, and strengthening your defense with 3rd party documentation.
Orthomosaics are large photographs that are created by combining dozens or even hundreds of smaller photographs, called orthophotos. Each orthophoto is corrected for perspective, lens distortion, and orientation. The result is a highly detailed image. Think of a Google Map, but at a much higher resolution.
Ahead Air can produce an orthomap of your project at specific time intervals, usually weekly or biweekly. Each aerial photographic mission is computer controlled, so the exact same area is mapped on each successive flight. This allows you to document changes to your construction site over time with high precision. The high resolution allows you to zoom in to specific areas to get a detailed view over time.
In addition to documenting construction progress, orthomosaics are useful for tracking materials and equipment on site.
Move your mouse over the image to the right to see details.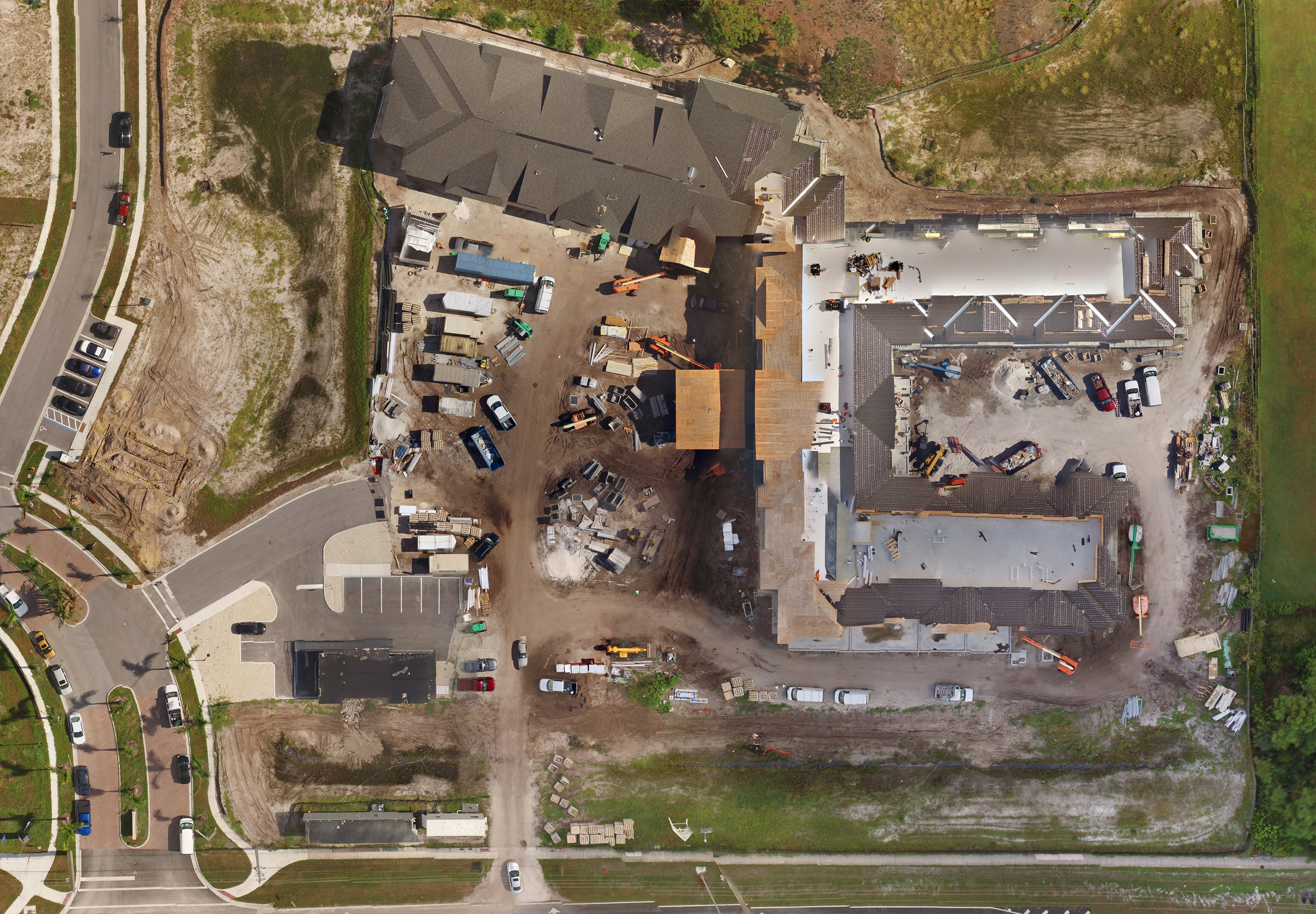 Digital surface modeling, contour mapping, and cut and fill estimation are all faster and more economical with aerial data. Drones make it easy to track surface changes in your project site over time.
Ahead Air can provide you with a raw DEM file, or a finished product like a contour map image or CAD dxf.

Stockpile Volume Measurement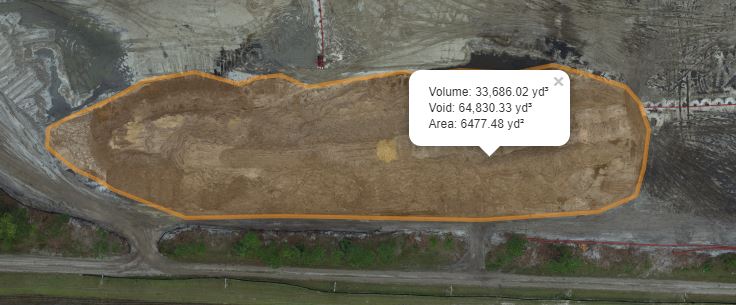 Take the guesswork out of onsite material inventory. Accurately forecast material usage. Ahead Air uses photogrammetry to accurately, safely, and quickly measure stockpile volume so you know what you have and what you need. Save money and time by reducing waste and avoiding downtime because of material shortage. No dangerous climbing, and Ahead Air can get you results in hours instead of days. Need to know even quicker? No problem, we can expedite your order.
3D modeling based on drone imagery is now used throughout the construction project life cycle. For new build projects, initial site surveys can be performed quickly and efficiently using aerial data capture instead of walking the site to capture DSM and elevation information. Cut and fill volume and position can be quickly measured. As the project progresses, 3D models can be compared to BIM models to ensure conformance to plans.
Ahead Air can generate 3D models in a fraction of the time and at huge savings over traditional processes.
Click and drag the image to the right to see different angles.
Aerial panoramas are interactive pictures comprised of several specialized photos stitched together using sophisticated software. Panoramas immerse a viewer in a perspective that feels like it is actually onsite. The viewer can scroll around to get different views, zoom in to see details of a particular area, and zoom out to get the big picture. Panoramas can be recreated with precision at regular intervals throughout the life of your project, showing progress over time.
Aerial panoramas are also useful in real estate for interactive views of large areas such as shopping malls, office complexes, and housing developments. They can provide a birds eye view of a subject that no other type of photography can match.
The images below are identical panoramas taken at different times on the same project.
Use your mouse (or a finger on a tablet or mobile device) to move around in the panorama. Use the scroll wheel (or two fingers) to zoom in and out. Click the

icon to view the panorama full screen.
Video has many uses in documenting construction. Time lapse videos show continuous progress over a period of time. Videos can be duplicated at time intervals and combined to show side by side progress. Videos are also great for documenting milestones like pouring a foundation or erecting a precast wall.
Ahead Air provides high quality 4K video and state of the art editing and post-production.
Contact us today to discuss your construction project.
Call us at 84-GETAHEAD (844-382-4323), email us or fill out the form.